Two teens in Italy have gone viral for photobombing an anti-LGBT far-right leader with a same-sex kiss.
The man on the left is Matteo Salvini, the leader of the Lega Nord Party who serves as Italy's minister of the interior and deputy prime minister. Lega is a far-right party with an anti-immigration agenda. Recently Salvini addressed an
anti-LGBT and anti-abortion group in the city of Verona.
He was in the city of Caltanissetta in Sicily for a rally last week when he posed for a selfie with Gaia Parisi and Matilde Rizzo, both 19. Except it turns out they weren't supporters, but two friends ready to photobomb Salvini by kissing each other.
"We queued with his supporters and when it was our turn, we kissed while I was taking the photos," Parisi told BuzzFeed News via Instagram DM.
"An officer immediately separated us, as you can see in the second photo. Salvini's reaction was giving a pat on Matilde's head and saying, 'auguri e figli maschi.' That's an Italian saying that could be translated with 'I wish you all the best and male sons.'"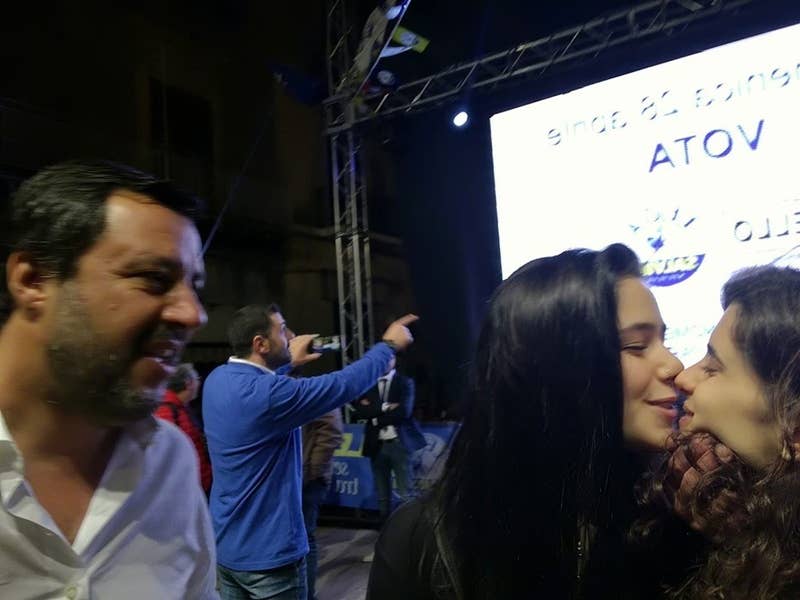 These Teens Photobombed A Far-Right Anti-LGBT Leader With A Same-Sex Kiss
Reviewed by
STATION GOSSIP
on
12:22
Rating: