A Leaked Explicit Group Chat Including One Of K-Pop's Biggest Idols Has Led To A New #MeToo Movement
Women in South Korea are having their voices heard through social media, and there's fresh hope that men will be held accountable for their actions.
Last year saw the beginning of South Korea's #MeToo movement when Seo Ji-Hyun, a prosecutor from Seoul, spoke out after she was groped by a senior colleague. Since then, women across different industries have slowly started to talk about their personal experiences of abuse and harassment.
Now, a leak of explicit group chats involving several high-profile men in entertainment has led to calls from the public to reinvestigate incidents of a similar nature where men were not prosecuted.
The person at the center of the latest scandal is Seungri, a 28-year-old K-pop star who was the youngest member of the boy band Big Bang, one of South Korea's biggest idol groups and one of the first K-pop acts to start touring worldwide.
However, for the first time, women in South Korea are seeing concrete results for their efforts to get their voices heard through social media, and there is the hope that perhaps, this time, the men involved — and others before them — will actually be held accountable for their actions.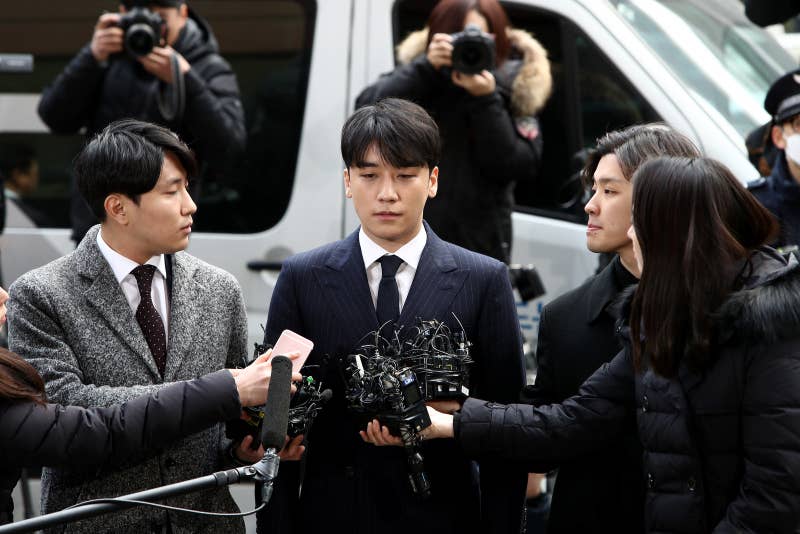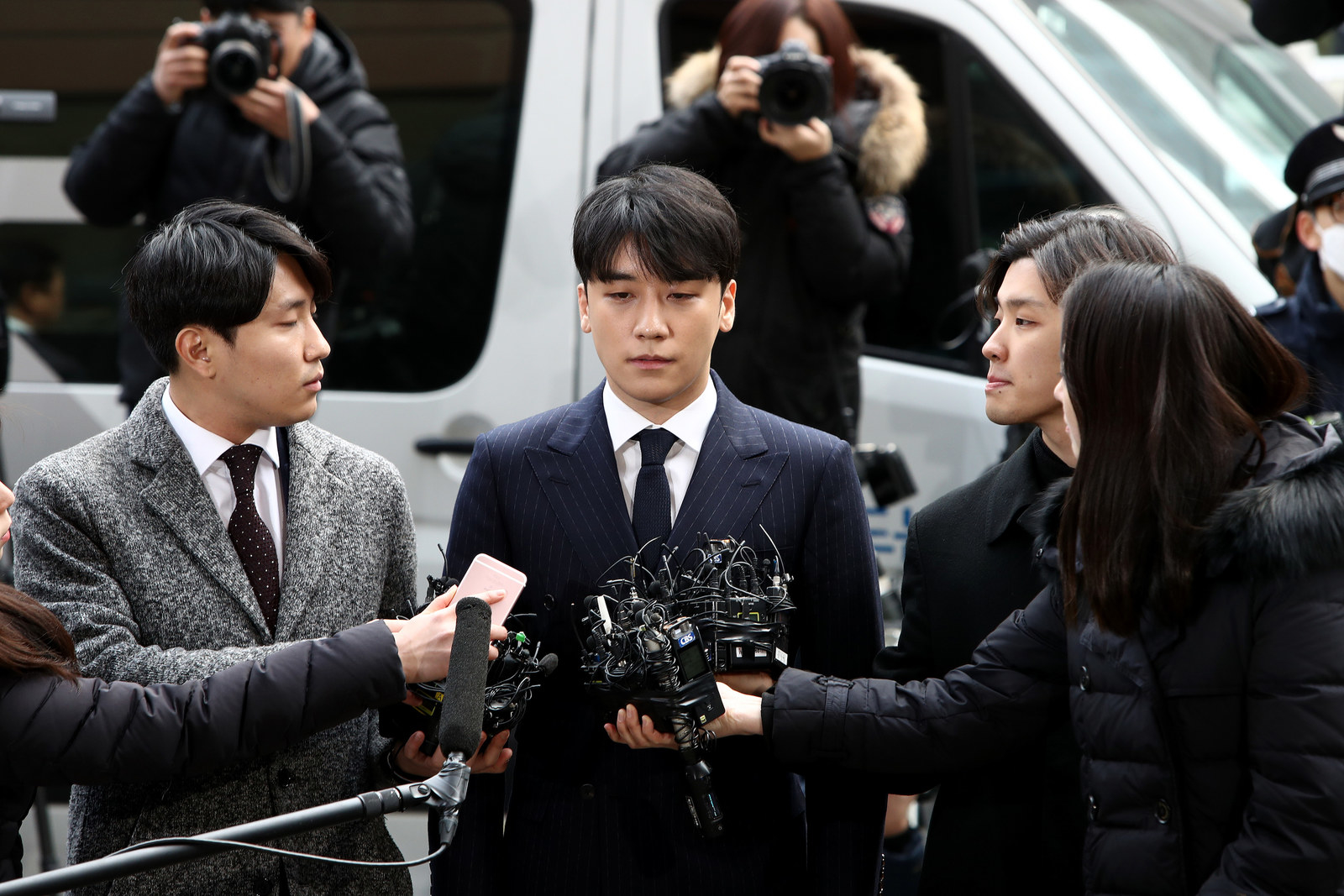 The 28-year-old and his label, YG Entertainment, have repeatedly denied the allegations and said that the messages were fabricated. Seungri's business partner, Yoo In Suk, a co-CEO of investment company Yuri Holdings, has also denied accusations that he himself was also involved in the group chats.
The investigations into the messages from the group chat also revealed the existence of group chats where men were sharing sexually explicit videos of women who appear to be unaware that they were being filmed.
In South Korea, there has been a growing problem of tiny hidden cameras that are used to record people in changing rooms, bedrooms, bathrooms, and in various private spaces. The explicit videos — known as "molka" — are often distributed across the internet on porn websites.
On March 11, Jung, who would later be revealed as the owner of the phone sent in for repair, was named as a participant in the group chat. He has been accused of sharing 10 videos of women over a 10-month period.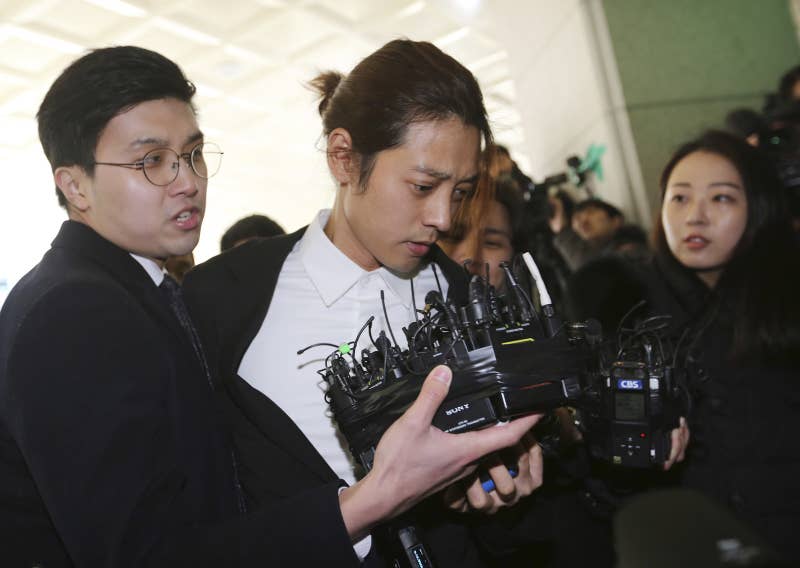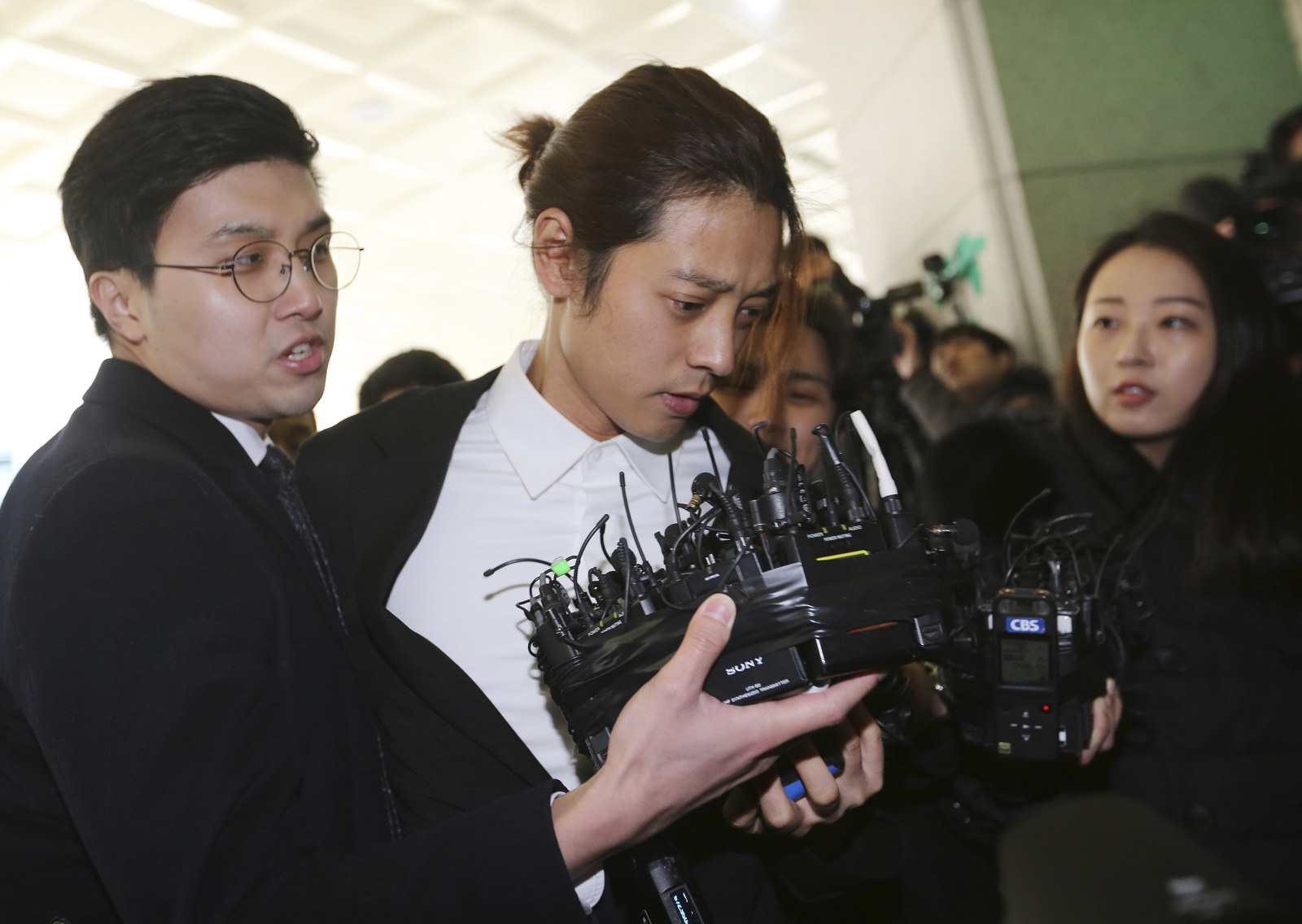 His agency initially denied the allegations. Jung had been out of the country at the time but apologized at the airport upon returning to the country on March 12. He released a statement later that day admitting to the allegations.
Choi's label later said that, after checking with him, Choi did pay a 2.5 million won ($2,500) fine for drink driving and had his license suspended for 100 days in February 2016. His label said that he would cooperate with the police in their investigation and while the investigation is taking place, he would halt all activities with the label.
Jung and Choi appeared to be involved in an exchange where Jung said, "Let's all meet online and go to a strip bar and rape in a car."
Someone only named as Park then responded, "We do that in real life too, you know."
Choi agreed, and Park added, "This is a movie. Think about it for five minutes. We just didn't murder, a lot of bastards have gone to jail for that."
All eight members of the group chat have now been identified. They are: former Big Bang member Seungri, Yoo, Jung, Choi, and four noncelebrities. All of the people in question have now retired from their respective businesses and have been questioned by police.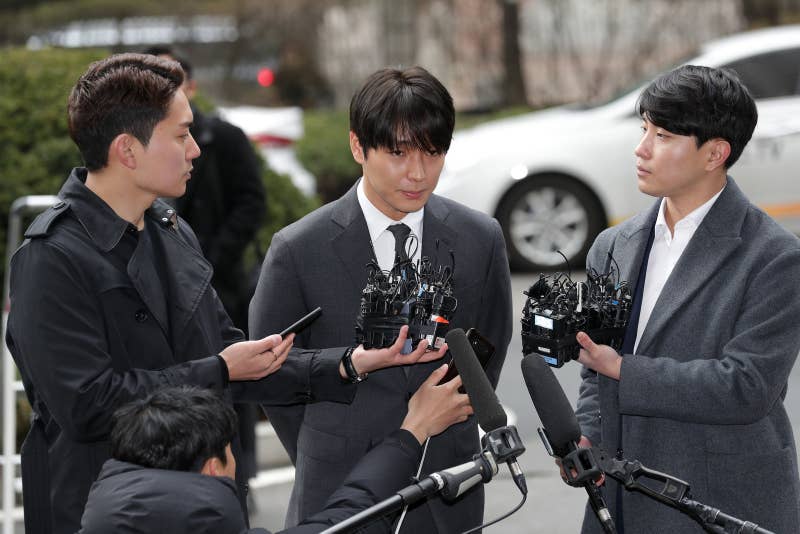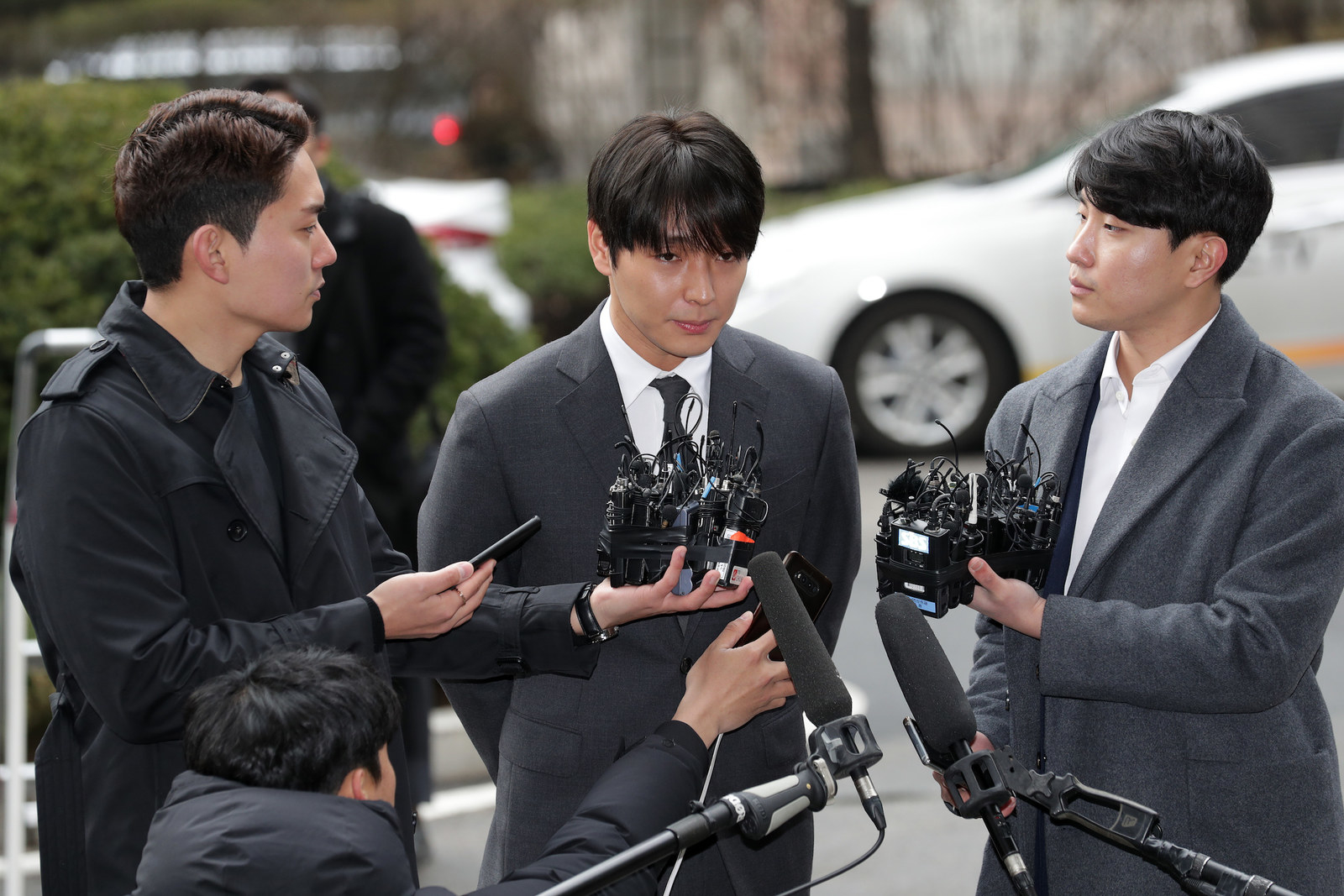 On March 14, Yong Jun-hyung, a member of the K-pop group Highlight, also announced that he was retiring from the entertainment industry, even though he was not involved in the group chat. Yong said that he had started talking to Jung at the end of 2015 and admitted to taking part in "very inappropriate conversations."
Following the scandal, the South Korean public has been shining a spotlight on previous cases where men have been said to have abused their power, such as the death of Jang Ja-yeon, an actor who killed herself in 2009.
Jang had left a note where she accused her agent of forcing her to give sexual favors to 31 high-profile entertainment figures and journalists. Her agent was not identified but was arrested in July 2009 and charged for coercing her. He was given a one-year prison sentence.
Some of the 31 people Jang accused in her note were investigated by the police at the time but were acquitted, according to the Korea Times. The names of the 31 people were withheld by SBS TV out of privacy concerns.
As the statute of limitations on Jang's case runs out at the end of March, people campaigned on social media to get Jang's case retried by getting South Korea's president to extend the time.
The campaign received support from actor Yoon Ji-oh, who said she had seen some of the names on the letters in question. She posted to Instagram saying she believes the late actor was sexually assaulted and testified at a trial of a reporter who was accused of sexually assaulting Jang on March 18.
Concerns about police corruption in Seungri's case also led to growing support for a petition that was started on March 12 as a last-minute campaign to ensure that Jang's case was not forgotten about before the statute of limitations ends. It now has more than 670,000 signatures.
On March 18, South Korean President Moon Jae-in responded by putting in an emergency order, which will allow prosecutors two more months to investigate Jang's case.
The president also said there will be thorough investigation into another case involving former vice justice minister Kim Hak-ui.
Kim was accused of raping women and receiving sexual services that were arranged for by a developer who was looking for business favors from the then–senior prosecution official.
Kim went on to become the vice justice minister and later resigned when the allegations surfaced. He was cleared in 2013, but there have been doubts by the Justice Ministry if the prosecution had properly investigated his case, according to the Korea Herald.

The president has assured the public and said that thorough investigations would not only be carried out in the old cases, but also in the one involving Seungri.
Despite the government's announcements, people are still encouraging the public to continue signing the petition about Jang in order to get even more time and to keep the discussions going.
On Thursday, Jung was arrested after appearing in court and admitting to all the charges. He has been dropped by his management company.
Choi's management company also said it was terminating its contract with him.
Seungri has continued to deny the allegations, with his lawyer going on TV and saying that the text messages were out of context and that the singer wasn't arranging for a sexual escort but rather a woman to accompany the business partner.
People have also been calling on Netflix to take down a show featuring Seungri on Netflix titled YG Future Strategy Office.
A Netflix spokesperson told BuzzFeed News that they have been informed of the allegations and "take the issue seriously."
"We have no plans for doing active promotion of this show," the spokesperson said.
A Leaked Explicit Group Chat Including One Of K-Pop's Biggest Idols Has Led To A New #MeToo Movement
Reviewed by
STATION GOSSIP
on
11:11
Rating: