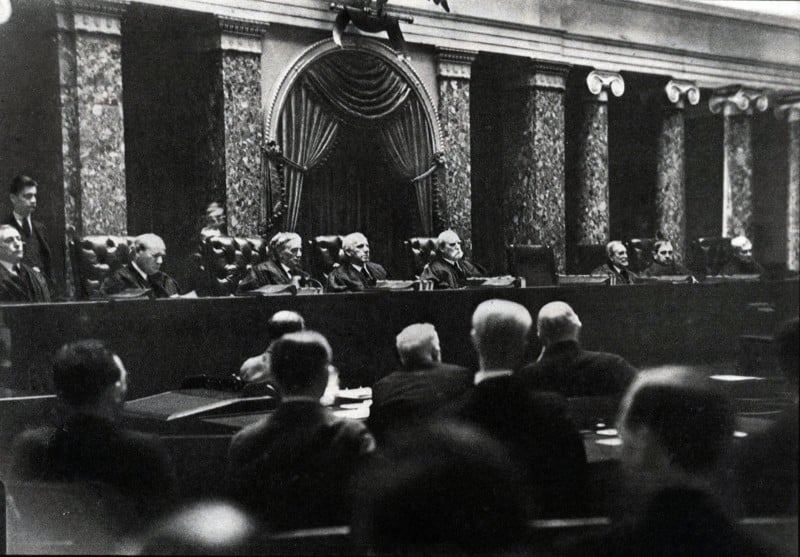 Did you know that there are only two known photos in existence that show the US Supreme Court in session? Cameras have
long been banned
inside the courtroom, so the only two photos were captured many decades ago by people who snuck cameras in.
The
first photo
, shown above, was shot in 1932 by a German photographer named Erich Salomon. Salomon was hired by
Fortune
magazine to shoot images during a tour of America.
The photographer decided to sneak a camera into the Supreme Court by faking that he had a broken arm so that he could hide his camera inside his sling. Salomon was able to snap a stealthy photo, which was later published in Fortune and touted as the first photo ever made showing the court in session.
Five years later, in 1937, a young woman managed to shoot this second photo of the Supreme Court in session:
Time wrote at the time that the photo was taken by "an enterprising amateur, a young woman who concealed her small camera in her handbag, cutting a hole through which the lens peeped, resembling an ornament. She practiced shooting from the hip, without using the camera's finder which was inside the purse."
The photographer was never named and remains a mystery. The photo was also the first and only time all 9 justices of the court were captured in the same photo in session.
The Supreme Court has officially banned cameras since 1946 when Federal Rule 53 was enacted. It reads:
Except as otherwise provided by a statute or these rules, the court must not permit the taking of photographs in the courtroom during judicial proceedings or the broadcasting of judicial proceedings from the courtroom.
These Are the Only Two Photos of the US Supreme Court in Session
Reviewed by
STATION GOSSIP
on
20:07
Rating: